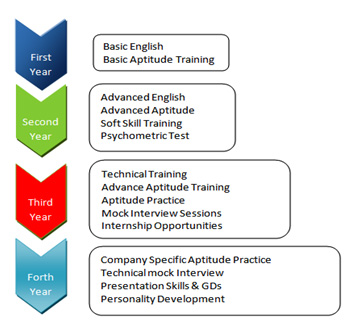 As per the saying "Change alone is constant", we from the Department of Human Resource Development, strongly believe that one is a learner throughout the life. Hence, we ensure to emphasis more on training our students to be employable ready. Special attention is provided to each student to ensure he/she receives the best outcome that benefits his/her career.
We have multiple training partners supporting us in developing the apt skills in students.

MOU with Training Institutes
FACE
INDIAN INSTITUTE OF HARDWARE TECHNOLOGY LTD
SEVENTH SENSE TALENT SOLUTION
SMART TRAINING RESOURCE
All the students of TOEI are trained in Quantitative Aptitude, Verbal Aptitude, Soft skills and Technical skills, Personality Development and Behavioural Skills. Selection of the topics and methodology of training delivery is done by Industry experts in consultation with Placement Head and Team, Heads of the Departments along with Alumni, which enables us to provide the best training for our students. The aim of organizing such training is to improve the career opportunities for the students and to guide them to accustom to the corporate right from their Academic days.

We offer training to all the students irrespective of their stream every year. Training start right from First year and continue till Final year just ensuring learning happens gradually and our students feel equipped while stepping out of our Institutions.

Our HRD department works 24X7 such that one can feel the vibrant environment on the campus. We are always open to walk that extra mile which can bring in benefit to students in terms of their personal and professional growth. Talents go barely unrecognized at TOEI as we leave no stone unturned, to place our students.
Below is the flowchart we follow to enhance skills among our students.