THE OXFORD COLLEGE OF LAW
#32, 17th B Main, Sector IV, HSR Layout, Bengaluru - 560 102, KARNATAKA, INDIA Ph: +91-80-6175 4551/552/542 E-mail: hsradmissions@theoxford.edu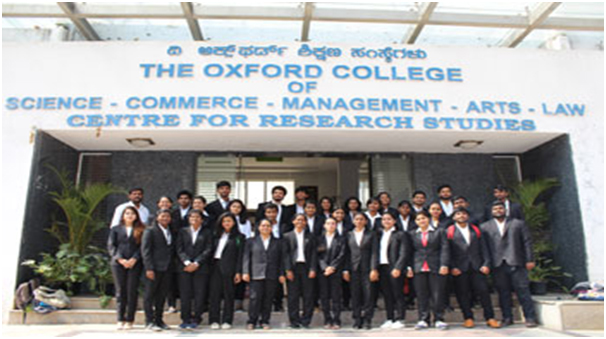 The Oxford College of Law is one of the most prestigious Institutions in the Country approved by the Bar Council of India and affiliated to Karnataka State Law University.

The Oxford College of Law was established in 2003 being a dream of Founder Shri S Narasaraju, a recipient of Rajiv Gandhi Award for 'Excellence in Establishment & Development of Educational Institutions'. Under the dynamic leadership of Chairman, Shri.S.N.V.L.NarasimhaRaju, The Oxford College of Law has become The Premier College of Global Standard of today.

The Institution is housed in the premises at HSR Layout, Bangalore. The amenities of our college are of International Standards and have a serene atmosphere. The Oxford College of Law is one of the pioneer Institutions in India imparting quality Legal Education and has introduced innovative ideas for the development of Personality of Students and their role in the Society. The Oxford College of law gives more emphasis not only law in books but also law in action.
COURSES OFFERED
Courses
Eligibility Criteria
B.A., LL.B
5 years (10 Semesters)
B.B.A., LL.B.
5 years (10 Semesters)
Pass in PUC / 10+2 or equivalent exam with 45% Marks, 40% for Karnataka SC/ST and 42% for Karnataka OBC.
LL.B.
3 years (6 Semesters)
Pass in any degree with 45% Marks, 40% for SC/ST Karnataka and 42% for Karnataka OBC
CAREER OPPORTUNITIES
Legal Practitioner / Advocate / Legal Advisor – To Specificity
Work with and for various Government Services
Commissioned officers in the legal branches of Indian Defense
Academics – Teaching Law
Writing – Journals / Reports / Blogging
Judicial Service Exams – Judge
UPSE Exams or MBA
Specialist in Legal Outsourcing – Obtaining Legal Services from another country
Impact Social Reformation - NGO