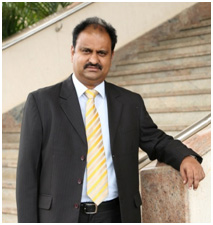 "Education is the most powerful weapon which you can use to change the world"
Nelson Mandela
We feel extremely proud and honored to be associated with The Oxford Group of Institutions which was started with a mission to empower the students in becoming excellent human resources and to contribute as much as to the human society. Wide range of educational programs are offered at The Oxford in the fields of Medical, Dental, Pharmacy, Nursing, Engineering, Architecture, Physiotherapy, Commerce, Management, Life Sciences, Hotel Management, Law, Journalism and Education. There is a continuous upgradation in all fields to keep up the pace to meet the current and emerging developments.

Gently moving forward, like adding a feather to our cap, we are happy to have reached the pinnacle with 8 schools, 20 colleges with 6 pre-university, 26 diplomas, 35 graduate and 18 postgraduate programs. We have highly enriched 56 branches of PhD programs also added to our success.

We at The Oxford Group have attracted students from all over the globe who have utilized our high standards of teaching methodologies by our extremely qualified and dedicated teachers. Our Teaching-learning process is based on motivation and discipline. Emphasis is laid on the extra-curricular and co-curricular activities viz sports, cultural activities, workshops, symposiums and seminars for all round development of our students.

In order to create a brand of competent, innovative and dynamic professionals for corporate sectors, industry-based training, soft skills, technical skills and Entrepreneurial skills along with psychology based training are provided for students. The tie-ups with various industries, national and international universities and organizations also contribute enormously in widening the horizon for our students in making the best career choice.

Our goal is to focus on cultivating responsibility, patriotism, moral values and creativity among students and ensure to groom and help them meet global challenges.