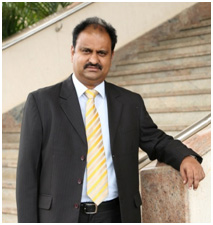 "Education is the most powerful weapon which you can use to change the world" - Nelson Mandela.
I feel extremely proud and honored to be associated with The Oxford Group of Institutions, which was started with a mission to empower the students in becoming excellent human resources and to contribute meaningfully to the human society. Wide range of educational programmes are being offered at the Oxford group in the fields of Medical Science, Engineering, Dental, Pharmacy, Physiotherapy, Nursing, Management, Computer Education, Life sciences, Basic sciences, Hotel management, Law, Journalism, Education, Schools and Pre-University courses, which continuously get upgraded to keep pace with the latest developments and innovations in associated disciplines.

The Oxford family constitutes a total of 32 Institutes throughout Bengaluru, which have attracted students from all over India and abroad, who can utilize our high standards of teaching process offered by qualified teachers using state-of-the-art Infrastructure and Laboratories. Our Teaching-learning process is based on motivation and discipline and special emphasis is laid on the extra-curricular activities like sports, cultural programs, workshops, symposiums and seminars for the all-round development of the students.

In order to create a breed of qualified, competent, innovative and dynamic professionals for corporate sectors, service-industries, academics, research Institutions and self-employment, both technical and soft skills training's are provided to the students. The tie-ups with various industries, national and international universities and organizations also contribute in widening the horizon for the students in selecting their career options.