THE OXFORD DENTAL COLLEGE
Bommanahalli, Hosur Road, Bengaluru - 560 068, Karnataka, India Tel: +91-80-6175 4603 / 626 / 601 / 602 E-mail: adn@theoxford.edu
www.theoxford.edu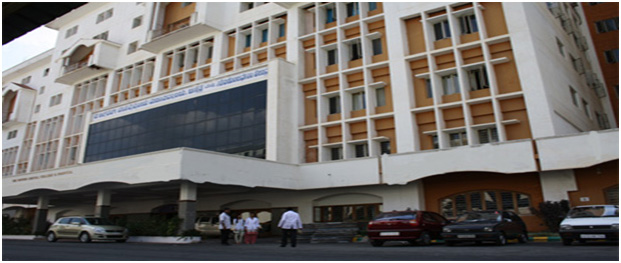 INTRODUCTION
The Oxford Dental College enjoys the rare distinction of being one of the most sought after and best equipped dental colleges in India and Asia. It is housed in a spacious 8-storey integrated complex with a floor space of 2,85,000 sq. ft., which incorporates complete facilities for pre-clinical and clinical training. The college is recognised by the Govt. of Karnataka and the Dental Council of India. The college is affiliated to Rajiv Gandhi University of Health Sciences, Bangalore
A knowledgeable dentist has the ability portray the best interpersonal skills, not only to comfort and distract an individual during pain but also to explain the oral problems that an individual may be experiencing and providing an assurance of relief.
The students of The Oxford Dental College are groomed to be the best patient friendly dentists in carrying responsibilities to successfully complete their treatment while maintaining the comfort of patients. Children are often nervous about their oral problems and pain. The friendliest Doctors of our Dental College give practical exposure to students as on how to handle children in a child-friendly and non-scary way.
COURSES OFFERED
Courses
Eligibility Criteria
B.D.S.
4 Years + 1 year internship
Pass in PUC / 10+2 or equivalent exam with Physics, Chemistry and Biology with 50% marks (40% of marks in case of Karnataka SC/ST/OBC candidates) and English as one of the languages. Must have qualified in National Eligibility cum Entrance Test (NEET). Candidates must have completed 17 years of age by 31st December of the year of admission.
M.D.S.
3 Years

Conservative Dentistry & Endodontics
Orthodontics & Dentofacial Orthopedics
Prosthodontics and Crown & Bridge
Oral Medicine & Radiology
Paedodontics and Preventive Dentistry
Periodontology
Oral & Maxillofacial Surgery
Public Health Dentistry
Oral Pathology & Microbiology

B.D.S. Degree in a College recognised by DCI and Government of India and affiliated to any University established by Law in India and completed the Compulsory Rotatory Internship on or before 30th April of year of admission. Must have qualified in National Eligibility cum Entrance Test (NEET).

Diploma in Dental Mechanics
Diploma in Dental Hygienist

3 Years
Pass in SSLC / Equivalent Examination. Duration of the course shall be 2 years in case of PUC with Science Stream or Equivalent candidates.
CAREER OPPORTUNITIES
Pharmacovigilance – Study and Prevention of adverse effects of Pharmaceutical products
Forensic Odontology – Crime and Investigation
Clinical Research – Fast Growing sector
Public Health Administrator – Work with Government programs/Health Institutions
Oral Biology and Sciences
MSc Oral & Maxillofacial Surgery
Msc Oral Microbiology
MSc Endodontic
MSc Orthodontics & Dental Orthopedics
MSc Oral Biochemistry
MSc Oral Immunology
Hospital Administration and Management (MBA)
Dental Product Design and Development – work with manufacturing Industy
Blogging and Content and Marketing
Dietitian
Public Service Exams – UPSC Exams
Entrepreneurship – Oral Health Care Consulting