THE OXFORD COLLEGE OF PHARMACY
Testimonials 2020-21
MrAjith Kumar Father of Chandni Nair of II Pharm D PB
I'm Ajith Kumar, father of Chandni Nair. She is completing her final year of PharmD in Oxford College of Pharmacy, Bangalore. The college is having a good wheelchair friendly facilities (lifts,ramps), as my daughter is a wheelchair user she was very comfortable and can go everywhere she wanted. The support of principal madam, teachers and fellow students was great. Finishing 6years in oxford I can find that my daughter is happy and comfortable with the academics and facilities provided by the college.
Chandni Nair II Pharm D PB
I am Chandni Nair. I'm an Oxfordite finishing my final year pharm D. I am a wheel chair user and I was searching for a good pharmacy college after completing my 12th grade. In spite of having high marks I couldn't find college because of the lack of wheelchair friendly colleges. Finally I came to Oxford College of Pharmacy, Bangalore and I was fortune that my college have all the facilities for wheelchair user (lifts, ramps). The support of my principal madam and teachers was great, highly efficient and experienced faculty to mould ourselves as a professional and also as an individual. I did my B Pharm in oxford and continued studying Pharm D PB as I was extremely comfortable here.
Testimonials
Kavya M Pari of IIISemB Pharm
From: KavyaPari <kavyapari889@gmail.com>
Contact number: 7204403993
As I am a student of The Oxford Of Pharmacy I was pleasantly surprised by the campus of the college and the quality of facilities that TOCP provides .Eventually the excellent pedagogy of the teachers and the amazing help I received to enhance my skill and improve my knowledge convinced me of the TOCP .I will recommend this place to the students as well as this is the place where one learns more than one can expect .
The academic experience with a world class infrastructure and excellent faculty at TOCP has endured me with a lifelong career excellence .
Rachitha S V of III Sem B Pharm
From: Rachitha S V <rachithasv04reddy@gmail.com>
Contact: 7349223100
As I'm the student of the Oxford College of pharmacy, here they provide the dedicated staff, excellent facilities and a committed management have effectively combined to make The Oxford College of Pharmacy a name to cherish with. Faculties make the students to enlighten their knowledge. Placements are available and students get beautiful jobs. Regular classes held at our college to help us with our aptitude and technical skills were of great help.
ChethanSheshadri Kof III Sem B Pharm
From: ChethanSheshadri K. <chethansheshadri21@gmail.com>
Contact:9008030851
Myself chethan , a student of the oxford college of pharmacy from the department of b.pharmacy ,to talk about our college its not less than a paradise to say the reason to say this is ,it has given us all the basic fascilities which any other college may not provide .. may it be any field our hardwork is must recquired to seek perfection and excel in our field .. yo achieve this a moral support and guidance is the key by which achieving such a goal will be easier.. im satisfied to say that we get all the moral support and guidance from our respected teachers .. more over there will be a hidden hardwork of teachers too in addition to our hardwoork which makes it worth to say our clg as not less than a paradise ,well ventilated classrooms ,labs ,library makes us feel more comfortable to listen and to excel in academics.. even recreation prgrms are also held which gives some relaxation for us which indirectly help us to achieve what we mean to . Last but not least i suggest that tocp is the best college of its time and at present too.
From Tejaswini B of II M Pharm
"The college is well equipped with good infrastructure. The teachersand other staffs are friendly with good interaction with students andare always supportive. Glad that we got best library with 'n'numberof books that is necessary to us. The atmosphere is very healthy."
From Divya R of II M Pharm
"It gives me great pleasure to say with pride that I am the student of The Oxford College of Pharmacy. I have completed my B Pharm inTOCP and pursuing my Mpharm at present. The reason for continuingmy masters in the same college is "The Faculties". We havewonderful teachers over here who guide us in all the aspects and also,we have a very good library with access for digital library. We alsohave well equipped labs where we can practically gain knowledgeabout the course in which we are. Apart from academics TOCP is alsoengaged with many cultural and sports activities. TOCP is the placewhere I cherished and learnt a lot. Five years in the college have mademe to grow professionally as well as personally. I am grateful to allthe staffs who have guided me and supported me in each and everyaspect."
From Syeda Huda of II M Pharm
"Our college is well equipped with facilities that brings about the bestin us. The homely environment, the cooperative seniors anddedicating teachers makes me feel that I have selected the exact andbest College for my master's degree"
From Abishek Yadav of II M Pharm
"College well connected for transportation. It has excellent libraryand all reference books available. Digital study classrooms are good."
From Sindhu G D of II M Pharm
"The instructors at The Oxford College of Pharmacy are amazing and it's much different than any college I have been too. The friendly attitude of the staff and their willingness to always offer a helping hand has made me feel a part of the TOCP family.
I have had access to unique opportunities to focus on my studies and prepare myself to enter job market with confidence. I am happy to recommend everyone whoever is planning to make their future with TOCP."
From Mr Sunil Panicker father of AishwaryaPanicker V Pharm D
My daughter has completed four years in the Oxford College of Pharmacy.We feel really grateful for having taken this decision.
The college has really helped her grow into a bright student.The teachers are experienced and very professional.The Principal and the management are putting immense dedication and effort to build up a good career for the young generation.
From Veena S of II M Pharm
"It gives me a great pleasure to say with pride that I am studying in "The oxford college of pharmacy". The relationship between college faculties and students is very cordial. The one year spent in the college were helped me to grow better personally and professionally. I would like to thank. The oxford college of pharmacy and all the faculties and staffs for making me a Good person."
From Sanjay Kumar of II M Pharm
"The teaching staff is very good, the labs and library I like the most in our college."
From M Charitha of II M Pharm
"The Oxford College of Pharmacy, where we can gain knowledge other than what we learn from books. I am proud to be a student in this college. College environment, lecturers, seminars, everything related to studies conducted in college is very beneficial to students. We can learn many things from our teachers.
From Keerthana N of VII SemB Pharm
I like the fact that lectures are friendly and they are always willing to help us in all the situations. Our classrooms are very interactive . The environment is very sociable . Along with acadamics , a lot of other activities like pharmacy week , cultural events , sports , seminars , tutorials takes place .I'm glad to be part of this institute .
From Monika B of V Sem B Pharm
Delighted with the infrastructure of the institution,
I found it to be a nurturing ground for personal development, self-realization and professionalism. It fills me with immense pride to be a part of this prestigious institution glorified with its professional faculties, modest lab facilities, smart classrooms, libraries, computer labs, office room, meeting room, common rooms, accommodation and other amenities.
The place I felt noteworthy is the Library. A serene environment with a variety of journals and books to enhance my knowledge and acquire skills that can be put into practice.
Leveraging academics, the college also provides support and guidance to excel in extracurricular activities as well. Besides, annual events like cultural and sports provide us a platform to showcase our talents and connect better with the peers.
Albert Einstein once said - "The value of the college education is not the learning of many facts but the training of the mind to think "
As a budding pharmacist, I strongly believe that it's greatly important to train our minds to serve the country in the best's interest of the society.
From MrBhaskaran B Father of Monika B of V Sem B Pharm
" The utmost concern of any parent is the safety of their children and I feel assured that my daughter is in the safe hands. The college provides expertise, good library facility, opportunity for better socialization and connecting with people. Further, Parent-teacher meetings are also held regularly to keep track of the progress and overall development of the children. "
From Aishwarya S of V Pharm D
The Oxford Group of Institutions is one of the most prestigious in Bangalore.This was the reason I chose to join The Oxford College of Pharmacy.The college provides every basic facilities required.The principal and our teachers are really very professional and helpful.The management has done their best to focus in building up a comfortable and great career.I am really thankful to the Oxford College of Institutions.
TEACHER TRAINING COURSES
TESTIMONIALS

Kamalini Shukla
I am glad that I have chosen "The Oxford College of Education" for pursuingB.Ed.
Individual attention is being given to each and every student.
WhateverI have learnedduring my two years course not only helped me to get a good job but is also helping me to do my work efficiently.
Learning in "The Oxford College of Education" is not limited to the syllabus. They believe in nurturing the attitude/behaviour of their students so that they can become a responsible teacher.



Savitri shrestha
The Oxford College of Education, Bangalore embodies the spirit of holistic learning, collectivism and collaboration to create an institution of excellence and core values. It has a striking reputation for producing qualitatively trained teaching professionals. The team of The Oxford College of Education focuses on the development of every teacher trainee's intellectual, emotional, social, physical, artistic, creative and spiritual potentials. They also encourage personal and collective responsibility. The entire two- year programme was well organized and designed to combine academic teaching with meaningful learning experiences. Pursuing Bachelor's Degree in Education from this prestigious institution of learning has been a milestone in my professional life and a significant contributor to the development of my personality. I have established my leadership, time management, self-awareness and team skills to a whole new augment level. I will always be grateful towards the college and the experienced, dedicated and principled academic staffs, especially Dr. Arundathi N. madam, for shaping me into the person that I am today.

Sneha kumari
Hi, I'msnehakumari from 2015-17 batch of B. Ed... I would like to write few things about The Oxford College Of Education.
There are two types of students who pursue B. Ed one who always wanted to become a teacher and other who don't have any choice so they come to join this course.
So the first type of students will definitely enjoy studying B. Ed from this college.. Because this is not that type of college which simply provide you certificate. Here you have to indulge in all the activities. The first thing that a teacher need to learn interaction with students and here you will definitely master this skill.. The faculties are very supportive and they really interact well with the students.

If you are a obeying student then go for it because this college is very particular about maintaining the discipline and rules regulations. If you want to be a good teacher then you have to attend the classes daily and this is one of the rules of the college. On the other hand they will provide you lots of hands on activities so you will really enjoy and at the same time you will feel pressure because You have to complete them in time as this is the part of the B.Ed course. During 2 years of journey I feel a lot of pressure in writing lessons plan and teaching students for 2 months as a part of teaching practice.
After completion of one unit we had to write unit tests which again made us feel pressure but definitely this practice reduced our pressure during final exams.
Students have to write news and thoughts on black board which helps in learning black board skill.

Now come to teaching... If you are looking for a college where you really want that teachers should teach you then go for it they will definitely teach you well with the provision of notes which You don't get in other colleges.. I would like to mention the teaching skill of Dr. Arundathi ma'am the principal of the college. I personally like her teaching style and she has good command on her subject.. I feel no one can teach psychology the way she teaches. The no. Of faculties is less but they will guide you in your respective subject.

Overall I can say if you are really dedicating then this college will definitely help you in achieving your goals. And if you want to get certificate only then this college is not for you.

Hima bindu
An investmentin knowledge always pays the best interest', The Oxford College of education is one the best B.Ed colleges associated with Bangalore University. It has well-ventilated classrooms and excellent labfacilities for various subjects like psychology,English, and Science. Computer lab facilitiesare provided to teacher traineestoenrich their knowledge with the modern trends of teaching methods. Excellent library facility with upgraded books for references to teacher trainees is a source of great help to them during seminarsand assignment submissions.
Academics and curriculum are outstanding and unbelievable. Principal and lecturers are highly experienced and put in efforts to provide quality education. They were approachable, helpful, friendly and always tried to make us smile and helped us out during tough times. One of my lecturers used to always boost us by saying" 'Everything will pass on' in that way we completed our trainingsuccessfullywithoutany breaks.
The other resources of motivation to teacher trainees were workshops, guest lecturers, inter-college competitions, exposure to new methods of learning by our lecturers, field trips, educational tours, celebration of important days, exhibition and various other co-curricularactivities,
The curriculum and the training is sequenced in such a way that they go hand in hand. Exposure to writing lesson plans and practice teaching at other schools played a major role in giving training to teacher trainees.
Campus placements were inclusive of, but not limited to our institutions alone.
My experience in this institution has helped me today to work in an esteemed school and become a good teacher.
Overall it was a great learningexperience and one would definitelybenefit from the same.

Sanchala Reddy
Writing my review for the oxford college of education .
This place completely changed my life . This is where I learnt how to be punctual, do things on time and mainly how important each and every work is . They groom you to become a responsible human being and then a teacher ! From making lesson plans to teaching aids they make sure you are perfect . Perfection is what they look for . The community living camps that they organise are a completely different learning experience. That is when I cooked for the first time . I still remember my principal telling me that we should not look at any job as low . Let it be sweeping , mopping , cooking , washing vessels or keeping your surroundings clean, it is as important as any other job and it is a part of our life . Practice teaching helped us to realise the mistakes we make and finally by the end of it we were perfect teachers ! The lecturers were there everyday to observe our lessons and help us correct our mistakes . Not to forget the loads of fun we had by celebrating festivals , important days etc . When I did my b Ed it was just for a year , but the fun we had and the learning we did is equal to many years. My sincere thanks to the lecturers and principal for making me who I am today .

Testimonial of passed out students 2019-2020

SCIENCE

Srija Arun(PCMC'S)
I, Srija Arun am a student of The Oxford PU College. I have studied for two years in the PCMCs course in Science. I would like to share my opinion about my brief but important time in this college.
I believe that colleges play a major role in building a student's character and this college has done so. I have undergone an exponential change from who I was before to who I have become now. This college has shaped me in such a way that I transformed from a shy girl who got average grades to a confident person who strives to be at the top.
The college atmosphere is very serious but not oppressing. The teachers are very approachable and go the extra mile to lend us a hand. The Principal and the staff are really friendly and helpful. I also made really good friends who are always there for me.
This college not only encourages us in academics but also in extracurricular activities. I enjoyed the Sports day conducted and participated in many activities.
This is my experience in this college and I would like to thank each and every one who assisted me on this journey.

2. Pratima Pradhan(PCMB)
This is Pratima Pradhan and I am a gems of The Oxford Pre University College , Bangalore.I am a science Student of PCMB combination .I like to share my views about this college.
I was not a good student in my school but after joining Oxford College I was surprised by my marks and this was possible because of teachers present in this college they always cleared all my doubts I were having and they always try their best to make our future brighter and because of their teachings and giving knowledge I am known as a good student.As I am a science student so laboratory are well maintained and respective teachers explain little things about all the experiments and I enjoyed while performing them.
All the teachers and principal sir are very friendly and awesome .They always motivated me and I have learnt many things from them.
Here many different competitions and functions were organised and sports also and I enjoyed all the competition I have taken part and in sports also .I made many friends and they also helped me a lot.
I am very glad to be a gems of this college I got many things in Oxford. I thank all the teachers and principal sir for making enjoyable and sweet memories and journey .
COMMERCE

S.A. JAFFER(BEAC'S)
The Oxford PU College located in J.P Nagar 1st phase is a part of prestigious Oxford Educational Institutions.
I am really happy and proud that I was a part of this College for 2 years to complete my PUC (2018-2020).
The teachers are really Supporting and always help you achieve milestones.
I did my PUC Commerce (CEBA) and teachers helped me alot.
After my SSLC Result which was 76.16% this college helped me and supported me very well.
This year i.e 2020 I completed my 2nd PUC with 88.83% which was only possible because of help of our teachers.
Principal sir is also very supportive and addresses our problems and helps us very well.
My only suggestion to the college management is to conduct more cultural and sports activities than they conduct now.
At last teachers work really hard so that students can achieve good results and it is duty of students also to concentrate during class time.

Fouzia Banu
The OXFORD pre-university college I have been pleasantly blessed with some great experience inside and out of the class with some outstanding professor and some really great students that would move on to become great friends. I was never in rush to go home after the class was dismissed because I always enjoyed conversing with fellow classmates about the today's class or just about anything going on around the world from sports to politics.when I first arrived here at THE OXFORD PRE-UNIVERSITY COLLEGE in the fall of 2018 I was very unsure how this entire college experience was going to go ,I felt like I was walking into the completely unknown place. After a month spend in the college was being familiar and being very interesting, the way lecturer's used to explain ,the way they used to behave was really very good ,I was understanding each and every single things they used to explain , their was no need of any extra class to be joined because of the excellent explanation . teachers , principal everyone have been so politely to me , lecturers have been friendly in making use get understand better so I have never faced any difficulty in my studies .they have organised cultural days , sports day etc it was Soo fun in the college , everything in the college was well mannered and we'll decipliend it was very good experience in the college

RAZIA SULTHANA –
Razia sulthana who had once been the student of"the oxford pre university
college "would like to share my 2years academic experiencewith aap of u.
I hope all of us had experienced the rolar coster rideatleast once in our life and we
all remember the first ride for the first time it seems difficult but when we sit into
it we it becomes memoreble hence, my 2years as BEAC's student was just like the
rolar coaster ride which was boath adventures and joyful .
If u ask me to give remark to this ride then I would give 4stars .
Teachers there are the best guide u could find in the rest of the world who hold u tight in this ride which is full of leaps and bounds .through out this journey these teachers will be like some time like ur parents strict ,caring and loving just like ur friends and devine just like god and goddess .
At last I would like to thank all my teachers ,friends and of course my parents to make my every second in this college a blessing
ARTS

AMREEN NAAZ –
I have been student of oxford pu college.
My experience at Oxford pu college has taught me one fundamental thing-LIFE IS UNPREDICTABLE. I had great experience in knowledge. My experience in this college has given me a chance to sharpen my skills in my field of choice. There have been, and there will continue to be, many opportunities to learn more ways of improving my crafts and studies as a result of my time in school,which I am truly thankful for.
Teachers I this college are very particular about their passion of teaching. Use to have nice communication with the teachers while a lecture. Teachers increase our skills with their own experience and knowledge.
The Oxford Dental College
I had a wonderful time during my stay in The Oxford Dental College, Bangalore. I have had excellent teachers, whom I respect a lot, and taught me all aspects of dentistry, both theory and practical. Ours is an institution which I would say is an exceptionally good in all aspects starting from academic excellence, cultural extravaganza to amazing infrastructure, and a safe and secure environment for students from all parts of India and the world. What I learned during my post-graduation has helped me immensely in my practice over the last decade.
Dr Sidharth Shankar (MDS Periodontics 2004-07)
Smilekraft Dental Clinic, 80 feet road
Koramangala, Bangalore

The Oxford Dental College has played an integral part in shaping my future. The promising infrastructure, the friendly environment will definitely grab your attention as you walk inside the huge premises.With student friendly teachers who are always approachable, never hesitate to go that extra mile to help their students. Good patient flow has helped me gain the clinical exposure which has boosted my confidence to take on this competitive world.
Sindhu Subbhulakshmi T
(BDS BATCH OF 2012-17)
I take this opportunity to express my heartfelt gratitude to this beautiful institution, for having given me a strong foundation for my successful career in dentistry. We are not only taught dentistry but we are also guided to be a good human being as a whole. I am very fortunate and blessed to have been taught, guided and inspired by all my beloved teachers. Homely atmosphere, adequate infrastructure and necessitated facilities, legends as professors, well stocked library, excellent patient flow and encouraging faculties and supportive environment to learn was present in the institution.It has been a great experience to be at The Oxford Dental College, and we had a good opportunity to meet students from different countries too.I am eternally grateful to our beloved Chairman sir of The Oxford Group of Institutions and our Professors and teachers for what I am today. I feel so proud to be an alumnus of this great college. PROUD TO BE AN OXFORDITE…!!!!!
Dr Sagar S Bhat
(BDS BATCH OF 2012-17)
THE OXFORD COLLEGE OF ENGINEERING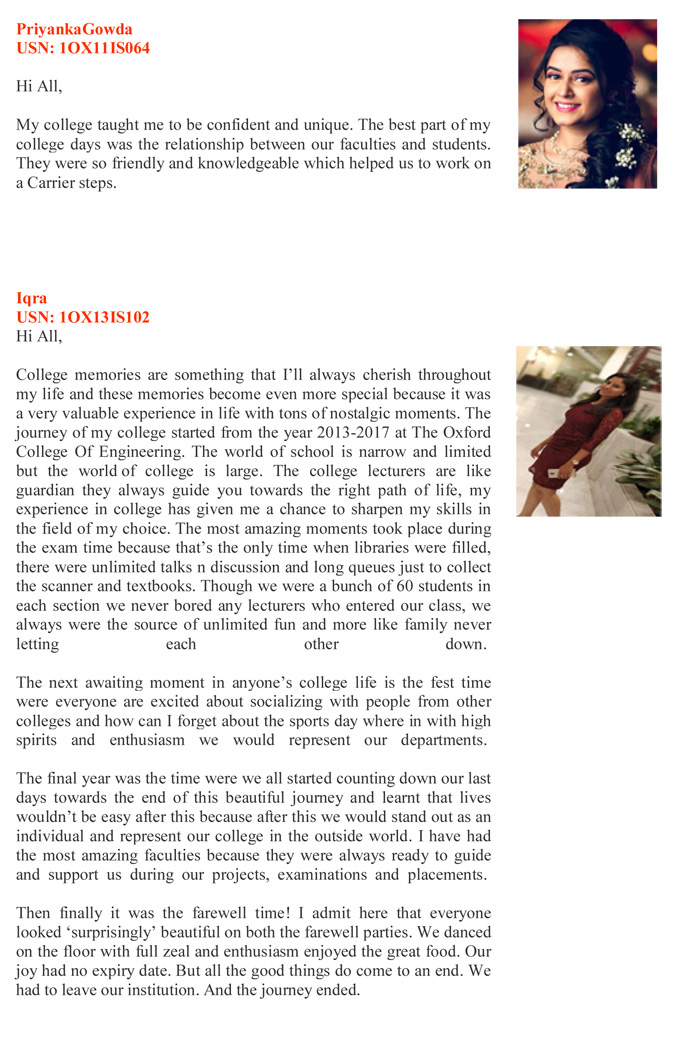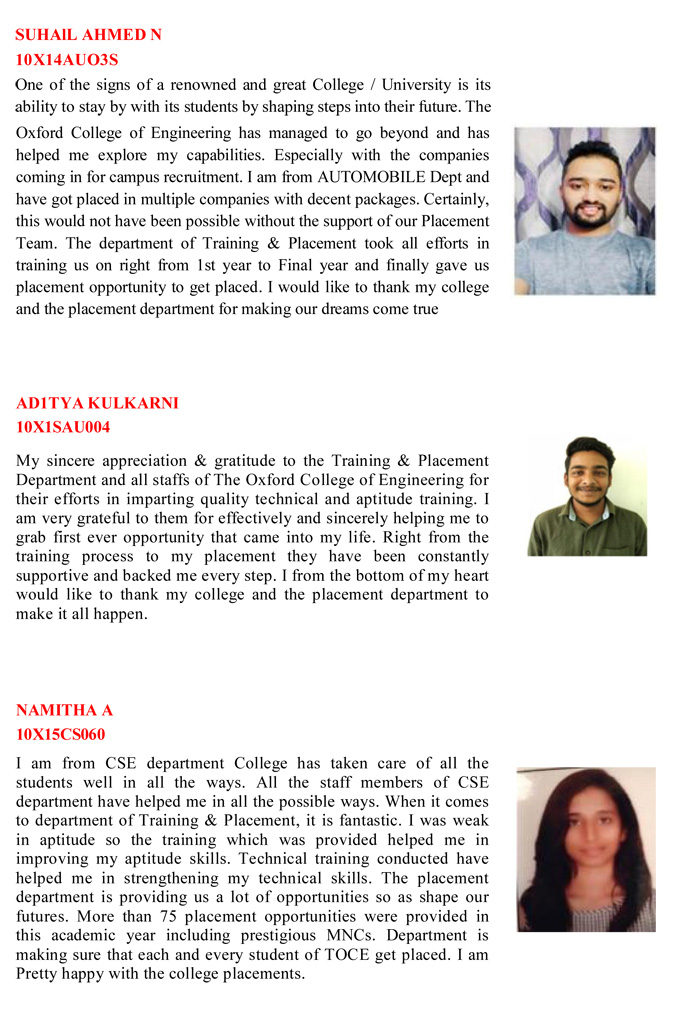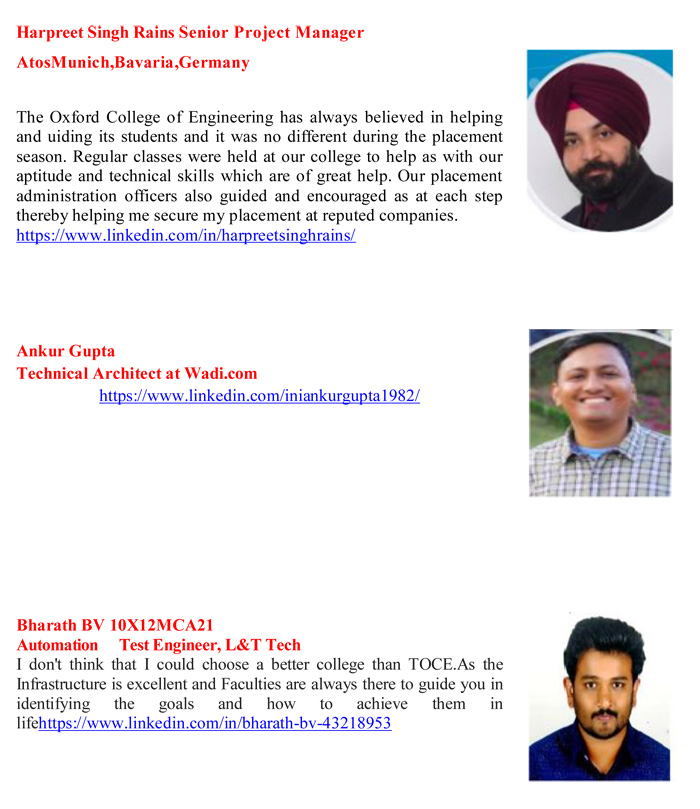 THE OXFORD COLLEGE OF SCIENCE