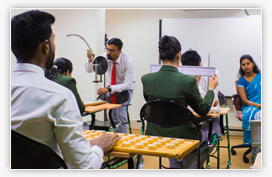 Psychology Laboratory
The Oxford College of Arts has a well-equipped Psychology Laboratory. Latest infrastructure is available to train the students individually to excel in their practical skills. Students are trained under the guidance of qualified teachers.
Studio
The Studio in The Oxford College of Arts has its very own state of the art camera (Sony PD170), sound- proof recording room, soft lights (LED), Black Magic Deck, condenser microphones, column microphone, chroma key, latest FCP video editing suite and ProTools audio editing suite. The studio has all the facilities that would enable students to create documentaries and short films in real-time.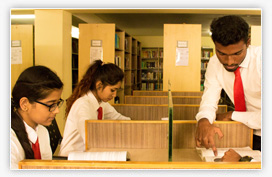 Library
The computerized college library boasts of four floors of books, encyclopedias, journals, magazines, e-books, CDs, INFLIBNET and DELNET facilities. It has the capacity to seat 250 people. The college library is home to 40,000 books and 200 national and international journals.

Academic Counselling
The students are guided throughout the academic tenure through Psychological Tests, Case Analysis and extra-curricular activities.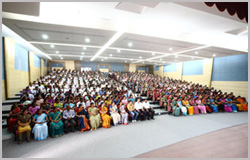 Placement Guidance
The college plays host to campus recruitment drives of major companies in the IT and manufacturing companies,Hospital, Service Industry, CBO, GO, Funding Agency, NGOs and so on. Our students have been well-placed in reputed organizations through our placement programmes. We also provide career guidance to our students.

Hostel
Separate Hostel facilities for both boys and girls with spacious well-ventilated/furnished rooms are provided.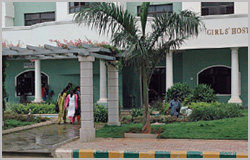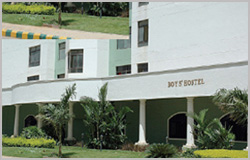 Transportation
The Oxford Institutions have their own fleet of buses for the benefit of students. The public transport services are within close reach of the college making commuting simple for those who come from different parts of the city.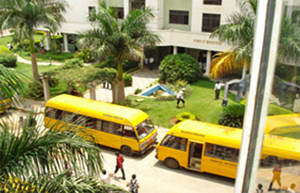 Auditorium
The auditorium with a 650 seating capacity to enable the students and faculty to organize symposia, conferences and other academic and cultural programs. The auditorium is well designed with video conferencing facilities to interact with well-known personalities in related fields all over the world.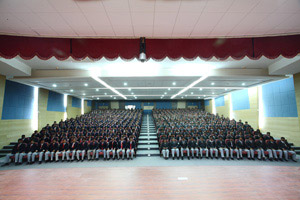 Library and Information Centre (LIC)
Library and Information Centre (LIC) is rapidly developing up to be one of the most sought professional education & research referral library. It started its service in the year 1994. All bibliographic details of books, journals and CD-ROM databases are accessible through the campus wide network. The library has vast number of printed documents, and it subscribes National and International journals. It has established contacts with other organizations for exchange of the Institute's publications and inter-library loan arrangement.

Library is the place of knowledge open for academicians and students. The library has more than 1410 volumes of books on a variety of subjects and 1924 titles. Utmost care is taken in developing resources for each department. Our Library subscribes to 21 International and National Periodicals and has a good collection of latest CDs on various fields. The house keeping operations of the Library is fully automated with Libsoft Library Automation Software and RFID Technology.

MISSION
Providing a student-centered learning environment that delivers information and services to its users where and when they need it. Promoting creative and critical thinking through information literacy.

VISION
Providing high-quality services that meet and exceed the expectations of a diverse user Community. Selecting, acquiring, organizing, preserving and providing access to library materials and resources.

LIBRARY SOFTWARE: LIBSOFT
Version: LIBSOFT 10.5.0 web Version: 1 Server License, Unlimited Clients.
Distributors: Environ Software Pvt. Ltd.
LIBRARY AREA:
The Central Library is housed in a main building.
It has 927.680Sq. mtr carpet area out of 3014.96Sq. mtr.
Seating Capacity: 100
LIBRARY FACILITY & SERVICES
Libsoft Library Software With RFID Facility
Open Access System
Circulation Service
Reference Service
OPAC Search Service
Wi-Fi facility
Internet Browsing Service
Reprography Service
Computer And Printing
Newspaper Clipping Service
Information Display and Notification
Display of New Arrivals
Book Exhibition
SC/ST Book Bank facility
Departmental Libraries for faculty
Power Back-up with UPS
Question Bank Services
LIBRARY RULES & REGULATIONS
The library is a place for study, reading, and research. Therefore, to provide better services, the library users are advised to abide by the following rules:
Library Timings – 9.00 a.m. to 6.00 p.m.
Students are requested to enter their name and sign in The Gate register.
Students should bring their Identity Card /smart Card whenever they enter the Library.
If any student found misbehaving inside the Library, he/she will be suspended from the library.
Issuing and returning of books is between 9:30a.m. to 4:30 p.m.
Only 2 books will be issued per student & 3 for Staff.
Library books should be returned within 7days for Students and 15 days for faculty. If it is not returned on the due date, penalty of Rs. 5/- per day will be collected.
If the Users lost due date card, a fine of Rs.200/- will be charged.
Borrower must replace lost - damaged books.
Leave the books on table after use. Don't misplace of the document.
Reference books/ Journals/ Annual and Project Reports are only for reference.
Personal books/ Folders/ Files/ Blazers/ Jackets should not be carried inside the Library.
Don't take away the library materials without completing procedures.
All borrowed books must be returned and Dues if any must be settled prior to collect examination hall tickets.
Do not leave your personal belongings in the library.
Library users should maintain silence inside the library and respect other users.
Please treat library materials, equipment's, and furniture with care.
Library users are requested to cooperate with library staff and follow their instructions.
Eating and drinking are absolutely prohibited inside the library.
Using mobile phones inside the library is strictly prohibited; please keep mobiles on silent mode.
Those users, who fail to observe the above instructions, may be asked to leave the library. This may lead to recovery of cost/ charges, and/or suspension from library privileges.
BEST PRACTICES
Library website / Web OPAC.
Orientation / Demo program for using library resources.
Library Advisory Committee.
Off-campus service through e-mail: We have individual, group e-mail service, whenever we find new information useful to the particular community, details are sent through e-mail.
Book exhibitions / Book shop visits.