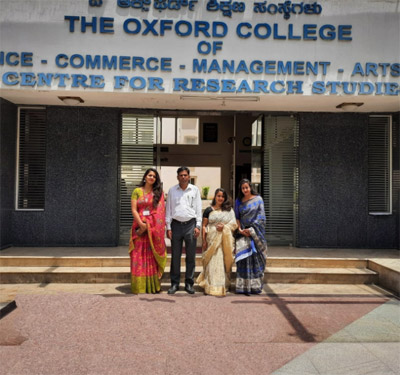 Media, be it print, television, radio, cinema or the internet and social media, holds sway over the minds of the masses in a big way. Media is big business and has tremendous scope for growth in a developing country like India. Journalism and Mass Communication is the study of various media for communicating with the masses. It is a viable arena of study that unleashes the creative and analytical potential of an individual, while opening up prospects for exciting careers in the media industry.
Journalism as a part of the undergraduate BA programme is being offered since 2006 in The Oxford College of Arts. The postgraduate programme in Mass Communication was started in 2009. The department has witnessed growth in academics, co-curricular and extra-curricular activities.

Journalism students are sent to various seminars and workshops in different colleges and are given practical hands-on exposure in journalism. The Mass Communication programme at The Oxford College of Arts is very interactive and classroom sessions are enhanced by media clubs, screening of films, visits to the press, TV studios, summer internships in the print and electronic media, participation in seminars/conferences and paper presentations.

A recent addition to the department is a well-equipped studio which is abuzz with activity, engaging students in the making of documentary films and short movies.

Career Prospects:
Several exciting career opportunities are available in the field of print journalism, advertising, public relations, technical writing, Television production, Cinema, online journalism and social media for students with Journalism and Mass Communication degrees.

Courses Offered:
BA Journalism, Optional English, Psychology
BA Journalism, Economics, Psychology
Duration:
3 year, 6 semesters, full-time undergraduate degree courses, affiliated to Bangalore University, Bangalore and recognized by Government of Karnataka.
MA in Journalism and Mass Communication
Duration: 2 year, 4 semesters, full-time postgraduate degree course, affiliated to Bangalore University, Bangalore and recognized by Government of Karnataka.

Facilities in the Department:

State-of-the-art Studio for audio-visual production:
The Department has its very own studio with hi-end camera (Sony PD170), sound- proof recording room, soft lights (LED), Black Magic Deck, condenser microphones, column microphone, chroma key, latest FCP video editing suite and ProTools audio editing suite. The studio has all the facilities that would enable students to create documentaries and short films in real-time.

Computer Lab:
Computer lab has the latest print editing software like InDesign and Quark Express for students to learn newspaper designing techniques

Campus Recruitment
Several media organizations from Bangalore regularly visit our college to recruit students through campus placements.
Activities of the Department:
Photography Exhibition – Fotografia, an annual photography exhibition-cum-competition is conducted with great enthusiasm by the students of the department
Lab Journal – The Oxforum, a lab journal published by the students of the department is released every semester
Guest Lectures – Industry experts are invited to give guest lectures and hold interactions with students in order to bridge the industry-academic gap.
Industry Visits – Industry visits to newspaper printing press, Television studios and radio stations for hands-on experience
Internships – Students are sent on internships to media organizations to gain practical knowledge about the media industry
Film Production – Students regularly create short films, ad films and documentaries using our studio facilities as a part of their curriculum
Achievements of the Department:
First rank in Bangalore University Examinations awarded to Ridhaa Sayeda (2013)
Fifth rank in Bangalore University Examinations awarded to Suveksha Rai (2012)
Awards and Accolades in Media Festivals – Students participate in inter-collegiate media festivals regularly and have won many prizes for their films, documentaries, debates , quizzes and more.