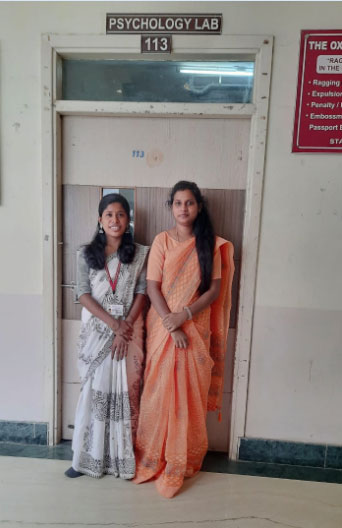 Psychology is the study of human behavior and cognitive functioning. A field, that is committed in observing, understanding and predicting human behavior. The field has given great importance in promoting mental health and consistent efforts have been made in bringing awareness about importance of mental health to all around the globe. Department enables students to develop knowledge, skill, and attitude in foundational, research, and applied areas of Psychology. The course creates an in-depth understanding to choose further specialization in Clinical Psychology, Industrial Psychology/ Human Resource Management, Counseling Psychology, and other allied courses in Post-graduation. Upon completion a wide range of opportunities for the student to excel in their areas of interest and develop the skills required to propel their future career.
Dept. of Psychology always focuses on holistic development of students in building their skills, talents, converting their weakness into strengths and also giving ample opportunities to explore themselves in the field of psychology. The department has witnessed success of many students in the field of psychology. Applied and interdisciplinary approach has created great amount of job opportunities to students. The wide opened positions in society have increased interest and passion towards psychology among people. Its relevance to the society is very impactful.

Dept. of Psychology, focuses on inculcating interest among students about research activities. Students have been trained and encouraged to present papers in National and International Conferences under the able guidance of faculty. Students are trained right from their baby steps towards psychology to paper publications. Workshops, Seminars, Awareness Programmes have always added value in their learning as well as in their profiles. Meaningful and fruitful experiences with the collaborative efforts of faculty and students have made the Dept. of Psychology very successful.

Major activity:
Organized webinar on Impact of Covid-19 on Mental Health on 25th May 2021.
Organized Guest Lecture on Dissociative Disorders on 30th Jan 2021.
Celebrating World Mental Health Day in the campus every academic year.
Awarded Rank 2 for "Suicide Prevention Campus Campaign" conducted by NIMHANS in the year 2017.
Awarded Rank 3 for World Suicide Prevention Campus Campaign conducted by NIMHANS in the year 2015.
Additional Information:
Academic and other activities.
Regular theoretical and practical classes and tutorials
Regular seminars, journal clubs and movie clubs, case conferences, group discussions with audio- visual medium.
Field work and community based research.
Individual student counseling.
Regular assessment of the students through assignments and research orientation.