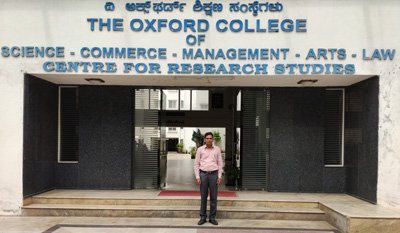 The Department of Economics under The Oxford College of Arts was started in 2006. The Department offers an undergraduate program in economics that imparts up-to-date knowledge on global and Indian economic scenario.
Teaching and learning in the department is defined by a diverse range of academic offerings and exposure to a multiplicity of paradigms. Our course structure incorporates a balance of theoretical analysis and quantitative reasoning.

Main objectives of the Department of Economics are:
To develop analytical, reasoning and graphical presentation skills of the students.
To provide the foundation for the study of the other branches of economics.
To help students analyse the role of government in the economic functioning of the nation
To enable students to understand international trade systems
To develop good citizens through education.
After successful completion of college study in B.A Economics, a candidate can choose to go ahead for post graduation program or take up short-term specialized courses according to the demands of the job market. Job opportunities are aplenty in the financial and allied sectors. Some of them are in finance and investment firms, banks , business journals, government enterprises , business newspapers, private banks, economics magazines ,teaching ,accounting and so on.

Courses Offered:
Presently the department offers graduate programme in Economics.

Facilities in the Department:
The college library houses a good collection of books related to economics. The Economic Times and the Employment News are subscribed and different reports published by the Government, RBI and other economic forums are acquired regularly for the benefit of the students.
Activities of the Department:
Academic and co-curricular activities relating to economics
Technology-driven presentations by faculty and students
Group discussions
Seminars/Guest lecturers are conducted periodically
Focus on academically excellent students, motivating them to achieve university ranks
Individual attention to students
Minor research projects during each semesters