BIOCHEMISTRY

Guest Lecture on 'Creative Memory –Mindsmart'
Speaker: Mr. Kawal Kalsi (Educator and Trainer- Creative Memory and Mind Management. Date: 14. 03. 2015
A guest lecture on Creative Memory –Mindsmart was organized by Department of Biochemistry, The Oxford College of Science, HSR Layout, Bangalore. The speaker was Mr. Kawal Kalsi, an Educator/Trainer par excellence is pioneer in the field of Creative Memory and Mind Management. He spoke about the importance of creative memory and demonstrated how to utilize it in an effective way in our day to day life.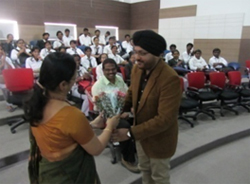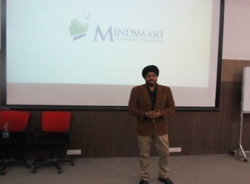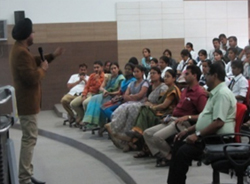 Guest Lecture and awareness programme on 'Spectacle Free Life in Younger Age Group'
Guest Lecture is a way of educating students with the latest happenings and trends in industries. On 17th March, 2015, a guest lecture and awareness programme was organized by the department on 'Spectacle Free Life in Younger Age Group'. The speaker, Dr. Ravi Krishna Kanaradi – Senior Consultant Cataract & Refractive Services, Vasan Eye Care Hospital Bangalore has over twelve years of experience as a practicing doctor. He is also consistently involved in creating awareness against cure for various eye disorders.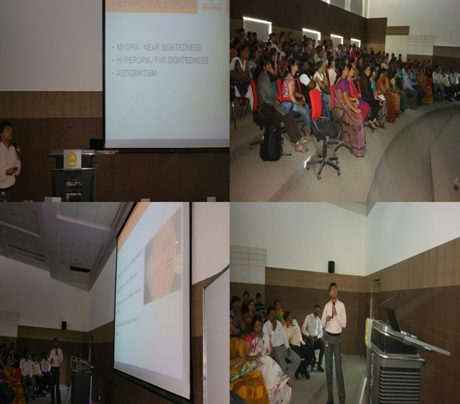 Guest Lecture 2014
A guest was organized by The Department of Chemistry and Biochemistry on " Application of Symmetry in Chemistry' by Dr. K.Nagasundara from Bangalore University on 07/03/2014.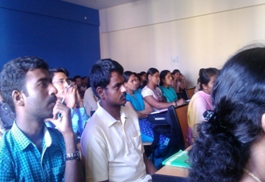 Guest Lecture : 20th September, 2014
Speaker : Dr. Subashish Bondhopadhaye, Mark Millipore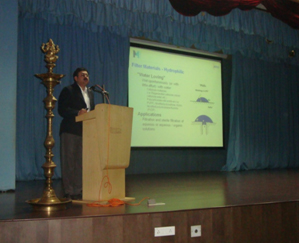 Workshop: Measurement of Radioactivity by using Geiger Muller Counter Date : 30.8.14 and 1.09.14
To study the characteristics of the Geiger Muller (GM) counter and hence to determine its operating voltage.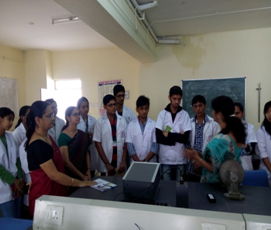 Workshop on "Electrophoresis and ELISA Techniques" on 30 th September - 1st October 2013
The Department of Biochemistry organized two day workshop on "Electrophoresis & Elisa techniques" on 30 th Sept & 1st Oct 2013 for UG Biochemistry students at Biochemistry lab. In the Workshop Students were given enough scope to learn the basic Principles and to gain hands on experience in electrophoresis. The key Resource persons were from our own Department Including Dr. Sangita Roy, Dr.Prakash, Mr. Bhanu prakash, Mrs. Vijaya, Mrs. Vastalya Krupa. The Chief coordinator of the programme was Mrs. Madhukala. The students gained vast knowledge form the two days event. The department is always in forefront to enlighten the students with the recent trends in the field of biochemistry and make them well versed with the practical aspects to cope up and compete with the rest. The department is looking forward to conduct such programmes in the near future.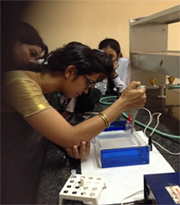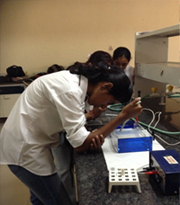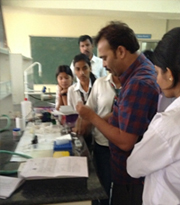 Guest Lecture 2013
Department of Biochemistry conducted one day lecture series on "Advanced Therapeutics" on 28-10-13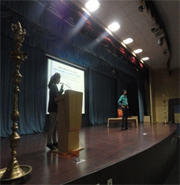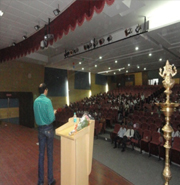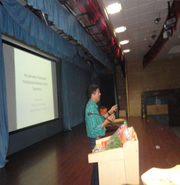 Lecture One
Speaker: Dr Pradeep Nair, presently working as a Senior Scientist at Biocon, gave a talk on "An overview of therapeutic monoclonal antibodies"
"Monoclonal antibody therapy" is the use of monoclonal antibodies (or mAb) to specifically bind to target cells or proteins. This may then stimulate the patient's immune system to attack those cells. It is possible to create a mAb specific to almost any extracellular/ cell surface target, and thus there is a large amount of research and development currently being undertaken to create monoclonals for numerous serious diseases (such as rheumatoid arthritis, multiple sclerosis, Alzheimer's disease and different types of cancers). There are a number of ways that mAbs can be used for therapy. For example: mAb therapy can be used to destroy malignant tumor cells and prevent tumor growth by blocking specific cell receptors".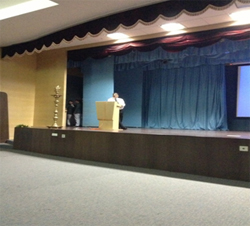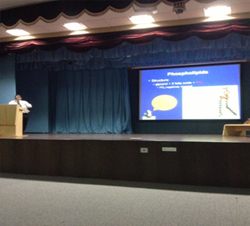 Lecture Two
Speaker: Dr. Gopal K Marathe, currently working as an Associate professor, DOS in Biochemistry, Manasagangotry University of Mysore, deliver a talk on "Biology of an Unusual Bioactive Phospholipid"
Phospholipids are of critical importance in mammalian cell biology, both through providing a permeability barrier and acting as substrates for synthesis of lipid mediators. Recently, several new families of bioactive lipids were identified that form through the enzymatic oxidation of membrane phospholipids in circulating innate immune cells and platelets.

SEMINAR ON EYE CARE:
In par with the academic related workshops & seminars the departments also organizes some awareness programmes which are of human health concerned on 03-10-2011. The speaker highlighted the concepts related to Diabetic retinopathy & its biochemical correlations. The audience was benefited a lot with informative speech by the expert speaker. The speaker stressed up on the need of the hour to be aware of the aspects about the retinopathy.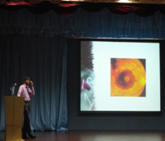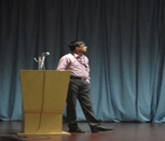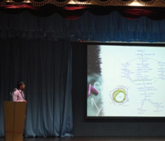 NMR WORKSHOP:
One day workshop on Bench top NMR spectrometer was conducted on 10-11-2011 at the auditorium in association with COLE PARMER INDIA LTD. The Key Speaker on the day was Dr. Dean Antic, Chief chemist & Director of Marketing Pico spin. The Picospin spectrometer resolves the proton chemical shifts with a resolution of 100ppb using a very small sample volume of less than 20 micro liters. The workshop trained as many as 200 postgraduate students as faculties of several reputed colleges across Bangalore. Indeed The department is always enthusiastic to conduct such programmes for the benefit of student community.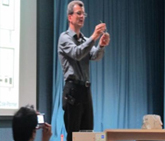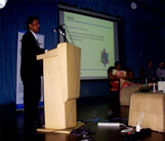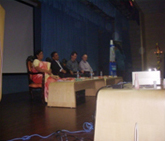 HANDS ON PROGRAMME ON TECHNIQUES IN COLUMN CHROMATOGRAPHY:
The department organized a one day training programme for Post graduate students to train them in several aspects and principles of column chromatography on 15-11-2011 in collaboration with Aristogen Biosciences Pvt ltd headed by Dr. Sudha devaraj. The Programme was of great help for the students to well verse with the technique. The expert's from the company gave the detailed principle, construction & working principle involved in several chromatography techniques. At the end of it was good response from the entire participants about the beneficial aspects of the event.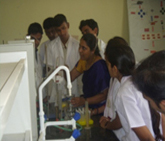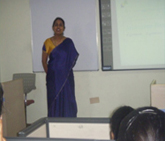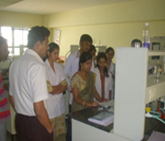 A Talk on Stress Management:
The department is more Eger to organize the programmes like this which are of great help for both student & teaching community in a stressful life .the programme was held on 29-09-2012 the key speaker was Mrs.Aruna Niranjan who runs a free counseling center "Disha". Who had a rich experience in conducting several stress busting techniques.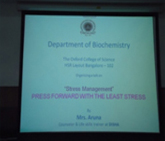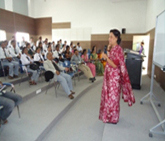 WORKSHOP ON PHYTOCHEMICAL EXTRACTION METHODS & ANALYSIS:
The department in association with IKA India ltd organized a one day workshop to postgraduate students to train them in area of photochemical extraction.10-10-2012. The key trainer of the programme was Mr.Gowrong More Application Engineer, IKA India PVT Ltd. This programme was of very relevance as it is a part of their curriculum and it is the need of the hour to train the students in such techniques which fits them in very good industry.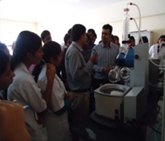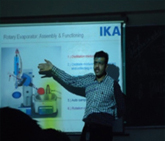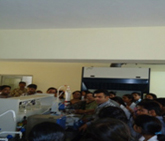 A TALK ON "SEEING IS BELEIVING" :
The Department organized a talk on 22-12-2012 on the topic " Seeing is believing" The Magic of Fluorescence By Dr.Anand kant Das Senior research scholar At TIFR Bombay. He was stressing the objective and principles of fluorescence techniques in biology . The talk was of great help to students of Both UG & PG. the speaker highlighted the applications of Fluorescence techniques, with more visual presentations.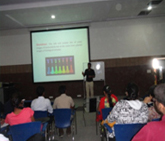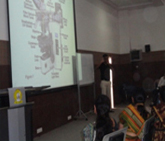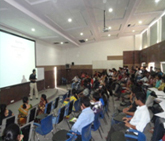 WORKSHOP ON DNA AMPLIFICATION BY PCR:
One day workshop was organized for the PG Students on 08-01-2013. In this Programme the Students were given hands on experience about the principle mode of operation & Applications of PCR to biological sciences. The Programme was organized in association with Eppendorf India limited. The Key speaker of the workshop was Mrs. Priya who shared her voluminous knowledge with the young PG students.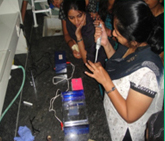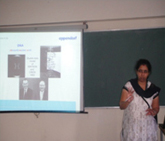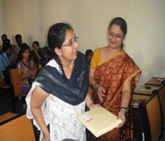 Activities
We conduct "JNANARJANA", a national symposium on Biosciences.
Guest lecturers conducted with talks by eminent scholars in the field of Biochemistry
Seminars conducted on frontier areas in Biochemistry.
Organization of science workshops (Workshop on NMR Spectrometer and Column Chromatography).
Science exhibitions (Biochemical Constellation) & projects are conducted
Industrial visits as per the curriculum conducted.
Interclass & intercollegiate cultural & academic competitions conducted.
Part time laboratory courses in molecular biology, immunology, enzymology, clinical biochemistry, biochemical techniques etc conducted in conjunction with specialized laboratories.
Specialized coaching & support provided for national level entrance exams like CSIR, UGC-NET, GATE, ICMR, SLET, JNU, IISc etc.
Placement opportunities & guidance offered through the department
Short term Certificate courses on "Basic training on Biochemical technique" conducted .
Wall Magazine Aims in publishing the New Scientific breakthroughs in related area, Recent advances in life sciences, to create aware of the happenings in the concerned area.
Women Day Celebration